TMJ & TMD Solutions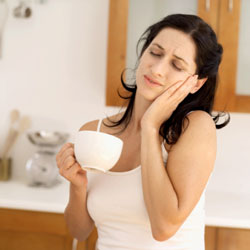 It's often accompanied by headaches, a popping or clicking sound in the jaw joints, and minor to severe pain in the jaw joints. TMJ dysfunction not only affects your jaw joint but all of the surrounding muscles in the face that control movement of the jaw and chewing. There are many factors that contribute to TMJ:
Injury
Jaw misalignment
Stress
Teeth clenching and grinding
Trauma
Discover Solutions for TMJ
At Choice One Dental of Buford, Dr. Jacobs will identify any TMJ issues and talk about treatment options that you can select based on your particular condition. One such option is a mouth guard that can help relieve teeth grinding. In situations that are more complex, we can correct grinding with porcelain veneers or crowns, or dental bonding.
TMJ pain and dysfunction don't have to interfere with your life. Contact us today to schedule an appointment! We accept insurance and offer payment plans.

TMJ Treatment | Buford GA
Choice One Dental of Buford